Are you on the lookout for a flashy new car? Or perhaps you have one to sell? Call Candy's 4×4 today on 01425 655009 and find out how our distinguished team can help. With many years of experience and an in-depth knowledge of all things Land Rover Southampton, our experts will find you the best deals around. So whether your current vehicle is on its last legs or you're looking to upgrade, we are here to help.
Buy and sell a Land Rover in Southampton
Widely regarded as a British icon, the Land Rover is a car fit for many purposes from taking the kids to school to going off-road. Here at Candy's 4×4, we are the leading choice for those seeking a comprehensive and affordable Land Rover Southampton service. Regardless of whether you're looking to buy or sell, our team will take care of the legwork, so you don't have to.
The best part about dealing with our company is that our knowledge is rivalled only by main dealers and our prices are far more affordable. This enables us to provide Southampton Land Rover services that are a cut above the rest. You can learn more about what we can do for you by reading on below.
Buying
Whether you're a fan of the classics or looking for something a little more up-to-date, we have you covered. At Candy's 4×4, we boast a large selection of vehicles, so you are sure to find the best Land Rover Southampton has to offer. From the earliest Series I to the very latest Sport or Discovery, our stock rotates on a regular basis.
We recognise that searching for a new vehicle can be incredibly time-consuming. Rather than tackle this yourself, let us negotiate the best possible price for your new Land Rover in Southampton. With vehicles to suit all budgets and specifications, we'll help you to select one that is right for you. Once you've selected your new car, our team will supply you with a FULL mechanical inspection.
As one of the most competitive choices around, our Land Rover Southampton company has several fantastic warranty options to choose from. We can even supply you with regular servicing and maintenance should you opt for this. To register your interest, call us or fill out our form.
Selling
When it comes to selling your vehicle, trade-in values are often disappointing. Here at Candy's 4×4, we always aim to provide Southampton Land Rover trade-in prices that are the best around. If you're looking to avoid those high offers that often end up lower at the time of viewing, then our company is the way forward.
We are proud of our reputation as one of the most reliable choices for selling a Land Rover Southampton. Simply give us a call, and we'll see if we can make you a better offer. Our team can even sell your car for a set fee on your behalf.
Whether you're simply looking to sell or buy as well, our Southampton Land Rover team ensure that your needs are met. Get in contact with Candy's 4×4 now for a FREE valuation with no obligation to commit.
Servicing and Parts
When you purchase your Land Rover in Southampton from our company, we will provide your car with regular servicing and high-quality parts. As part of our servicing, we provide a range of services including:
Full Autologic Diagnostics
Engine rebuild and modifications
Supply and fitting of parts and accessories
MOT's and seasonal inspections
Tyres, batteries and exhausts
Suspension alignment and modification
Unlike other Land Rover Southampton suppliers, we carry out all servicing in-line with official standards and specifications. This will ensure that your vehicle is kept in full working order and remains compliant with the main Land Rover warranty.
When you choose Candy's 4×4, you will save up to 50% on the repair or servicing of your Land Rover in Southampton. Plus, we provide FREE local collection or courtesy cars (when available), so you can go about your day.
If you're in the market for a new car, be sure to get in contact with our professional Land Rover Southampton team.
Reasons to choose Candy's 4×4
Are you tired of searching around Southampton Land Rover suppliers looking for the best deals? The good news is that your search is finally over. Here at Candy's 4×4, our family-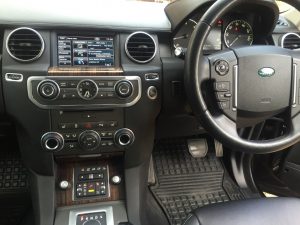 run business has more than 30 years of experience in servicing and supporting Southampton Land Rover customers. We provide a knowledgeable and friendly service intended to facilitate your needs in full.
As a company who are committed to keeping costs as low as possible, we have carefully streamlined our overheads. This enables us to provide you with an outstanding level of service at prices that are highly affordable. We even supply genuine parts for your Land Rover in Southampton at a fraction of the cost of main dealers.
Thanks to our extensive background knowledge and access to the latest equipment, we are able to provide support for models regardless of age. Granted a Royal Warrant by King George VI in 1951, the Land Rover is considered to be a true marvel of British engineering. So, if you wish to own one or have any questions about our Southampton Land Rover service, do not hesitate to speak with a member of our team.
Contact
Call Candy's 4×4 now on 01425 655009 and discover for yourself what makes us the best choice for a Land Rover Southampton has seen.