Are you searching for 'Land Rover Hampshire'? With many years of experience, Candy's 4×4 are the number one choice for supplying top quality vehicles and first-class customer service. Whether you're looking to buy, sell or simply enquire, you won't find a more professional service anywhere else. At Candy's 4×4 we're committed to supplying Hampshire Land Rover services that are second-to-none.
Treat yourself to a shiny new Land Rover in Hampshire
From the 1948 Series I to the all-new 2017 Discovery, the Land Rover is often regarded as the hallmark of British ingenuity. Providing both versatility and performance, a Land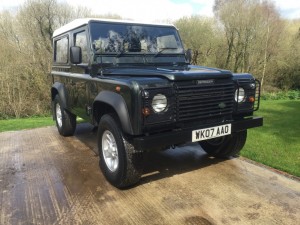 Rover in Hampshire is perfect for all manner of uses. Whether you're traversing open farmland, taking the kids to school or searching for a luxury company vehicle, Candy's 4×4 won't let you down.
As the best choice for a Land Rover Hampshire has seen, we stock the widest selection of vehicles from cross-country options such as the Defender to the stylish Freelander. Our stock rotates often, so you're always guaranteed to find something that catches your eye. To see our full list of available vehicles, click here or call us to book an appointment.
How can our Hampshire Land Rover specialists be of assistance?
With Candy's 4×4, finding the most suitable Land Rover Hampshire has to offer couldn't be easier. Likewise, if you're looking to sell or enlist our servicing team, Candy's 4×4 are here to help. To learn more, please see below.
Purchase a new Land Rover
Most people don't have the time to spend perusing websites and advertisements looking for their next vehicle purchase. With Candy's 4×4, you don't have to as we'll do all the legwork to source for you a shiny new Land Rover in Hampshire. Just tell us what you're looking for, and we'll track down a list of vehicles that suits your budget and requirements.
The Land Rover Hampshire team at Candy's 4×4 can handle all trade and private negotiations to secure for you the best possible price. Once you've found a new vehicle, we will supply a full mechanical inspection to make certain that everything is above board. Plus, we offer several warranty options, or we can arrange finance for your Hampshire Land Rover on your behalf.
Sell your existing Land Rover
While we help you purchase a new Land Rover in Hampshire, why not have us find a buyer for your existing vehicle too? Trade in values can often be less than stellar, which is why Candy's 4×4 go that extra distance to help you get the most for your current motor. As the finest option for selling your Land Rover Hampshire has experienced, we'll make you a better offer or sell your car for a set fee on your behalf.
Here at Candy's 4×4, we have a long list of interested clients who are looking to buy, so you won't be waiting to sell your Hampshire Land Rover for long.
Servicing and parts
If you're looking to save up to 50% on the cost of visiting a franchised dealer, Candy's 4×4 can help. We keep our overheads as low as possible and pass the savings onto our customers. Our standard Land Rover Hampshire servicing leaves no stone unturned with services that include:
Full MOT's or seasonal inspections
Tyres, batteries and exhausts
Suspension alignment and modification
Supply and fitting of Land Rover parts and accessories
Engine rebuilds and special modifications
Full Autologic diagnostics
We possess the latest diagnostic equipment and expert knowledge that enables us to carry out all Hampshire Land Rover servicing in-line with the Land Rover main warranty. Plus, when you choose Candy's 4×4, you'll have the option of FREE local collection or a courtesy car when available.
If you have any questions or would like to request our help in buying or selling a Land Rover in Hampshire, feel free to get in contact with us today.
What makes us the best choice for a new Land Rover Hampshire has seen?
Why be put off buying and selling when the solution is simple? By choosing Candy's 4×4, we provide a hassle-free service that will ensure that all of your needs are met without any stress to contend with. With 30 years of experience to call upon, our family-run business has established a solid reputation for assisting customers in sourcing their next Land Rover in Hampshire.
When you choose our Hampshire Land Rover dealer, you'll receive outstanding customer support. We supply genuine Land Rover parts, and our specialist knowledge enables us to provide you with honest and impartial advice on a wide range of Land Rover related subjects. So, if you're looking for a new car or would like help selling your old vehicle, look no further than Candy's 4×4.
Contact
Book an appointment with our Land Rover Hampshire specialists today by calling Candy's 4×4 on 01425 501001.