Hampshire 4×4
Is a Hampshire 4×4 the top of your wish list? Do you need a trusted garage to service your current vehicle? With more than 30 years' experience in the industry, Candys 4×4 are the number one choice when it comes to your Land Rover needs. What's more, whether you are looking to buy, sell or need parts for your vehicle, you can trust Candys 4×4 for a great price right for you.
The first-choice for all your Hampshire 4×4 needs
Dreaming of owning a Land Rover? Here at Candys 4×4, we are specialists in dealing, servicing and repairing 4x4s. It our mission to ensure that we can offer you an excellent service at the best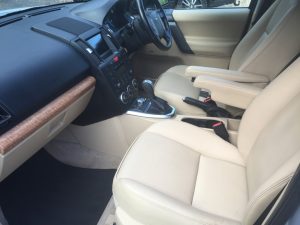 possible price for your Land Rover needs. Below are a number of reasons why we are the number on 4×4 Hampshire dealer and garage:
More than 30 years' experience
Affordable prices
Professional MOTs and service inspections
Outstanding customer service
Use of the latest diagnostic equipment
A team of friendly and knowledgeable specialists
Free local collection or courtesy car when available
Engine rebuilds and special modifications
Impeccable attention to detail
Our 4×4 Hampshire services
Based in the New Forest and on the border of Hampshire, Wiltshire and Dorset, we work hard to provide an excellent service to local residents looking for a 4×4 in Hampshire and beyond. From finding a new Land Rover Discover to high-quality servicing on your Freelander, our talented team are committed to providing each individual client with a professional service beyond their expectations.
Buying a Hampshire 4×4
When searching for your dream car, you can simply give us a call to test drive one of the Land Rovers we have in stock. To give you the best service possible, all of our vehicles have received a full mechanical check. Better still, we also offer multiple warranty options and have the ability to arrange finance on your behalf.
For those of you looking for something specific in your quest for the best 4×4 Hampshire has to offer, please get in touch and we will see what we can do. We may have just the Land Rover you are looking for in our up-coming stock deliveries or vehicles currently undergoing their final mechanical check.
Here at Candys 4×4, we pride ourselves in going the extra mile in your journey to securing the finest 4×4 in Hampshire. So if required, our team will source a vehicle to suit your budget and dream Land Rover specification. Not only do we negotiate a fantastic price on your behalf, we also save you time by contacting dealers to find the perfect match based on your specifications.
To find out more or to book a test drive appointment call us today on 01425 501001.
Sell your car to our Hampshire 4×4 dealers
Securing the best price for your Land Rover is a priority when advertising it for sale. Trade in values can be far less than you'd expect, and often online offers are reduced upon viewing. To ensure you obtain the best price for your current vehicle get in touch with our team who will endeavour to support you with your sale. From offering a fair price on your 4×4 in Hampshire to selling it on your behalf for a set fee, our team of experts at Candys 4×4 can help.
Furthermore, due to the nature of our business we may have a 4×4 Hampshire buyer ready and waiting to snap up a vehicle like yours.
Servicing and parts
Our 3 decades worth of knowledge and experience coupled with use of the most up to date diagnostic equipment, enables us to service all Land Rover models in-line with the main warranty. With a commitment to keeping our overheads low, we offer this 4×4 Hampshire service and genuine parts at a considerable saving when compared with main dealers.
Whether you are lucky enough to own an original model from 1948 or need a service on your stunning Hampshire 4×4, our specialists are fully qualified in providing MOTS, maintenance, services and engine modifications on the following models:
Series I, II, III, 88
Defender 90, 110, 130, V8, TDi, TD5
Freelander
Discovery
Discovery Sport
Range Rover
Range Rover Sport
Range Rover Evoque
Commercial Land Rover vehicles
Reasons to choose Candys 4×4
Our team of talented technicians and knowledgeable sales people will ensure you are behind the wheel of a Hampshire 4×4 in no time. From a Land Rover Sport to a stylish Discovery, Candys 4×4's family run business is the number one choice to assist you with finding your dream 4×4 in Hampshire
What's more, Candys 4×4 is a well-established business with a reputation you can trust. The team make it their priority to ensure that you receive a service of the highest possible standard when it comes to servicing your vehicle and conducting its MOT.
Additionally, if you have a redesign in mind for your Land Rover, our competent team are ready and waiting to discuss the steps required to complete your exciting Hampshire 4×4 project.
Contact
Whether you are looking to buy a Hampshire 4×4 from a trusted dealer or are searching for the best team to service your current vehicle, choose Candys 4×4 for all your Land Rover needs. Contact the sales team today on 01425 501001 or call 01425 655009 for servicing and parts.