Dorset Land Rover
Are you looking to trade in your current Dorset Land Rover for a newer model? Searching for the most qualified Land Rover specialists to complete an MOT and service on your vehicle? Look no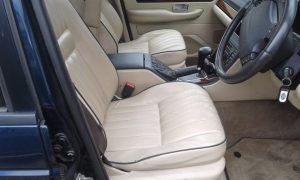 further, for more than 30 years Candys 4×4 has been a leading Land Rover expert providing outstanding service to customers across the South of England. So, whatever your Land Rover needs, call us today on 01425 655009.
The number one option for all things Land Rover in Dorset
Here at Candy's 4×4, we endeavour to provide all of our clients with a first class service when it comes to the buying, selling or servicing of your Dorset Land Rover. Plus, our wealth of experience and knowledge spanning three decades in the industry, means that you will always be in the hands of experts. What's more, each of our technicians is extremely passionate about offering the finest services for Land Rover Dorset has to offer, therefore you can rest assured that we will exceed your every expectation.
Our Dorset Land Rover services
If you are looking for a reputable company who knows exactly what they are talking about when it comes to the Dorset Land Rover market, you couldn't be in better hands. From the original 1948 model to the Freelander and Discovery Sport, our specialists are highly-trained in dealing with all types of Land Rover models in line with the main warranty requirements.
Below we have outlined our services which Land Rover Dorset owners and beyond can benefit from when they choose Candys 4×4.
MOT and Servicing
With decades' worth of experience and know-how, we ensure that our MOT and Servicing department stands out in the industry. On top of this, to guarantee all our clients the first-class service they expect from a Dorset Land Rover specialist, we use the very latest diagnostic equipment.
What's more, each of our employees is highly proficient in their roles, which means we ensure that every process is efficient, in turn keeping our overheads low and allowing us to pass those savings on to you as our valued customer. Candys 4×4 is therefore, a name you can trust for the most competitive prices for Land Rover in Dorset.
Read on for some of the benefits of choosing our Candys 4×4 technicians for your Land Rover Dorset servicing and MOT needs:
All work carried out to the official Land Rover standards and specifications
Full Autologic Diagnostics
Supply and fitting of Land Rover parts and accessories
MOTs and seasonal inspections
Suspension alignment and modifications
FREE local collection or courtesy care when available
Selling
We understand that when it comes to trading in your current Dorset Land Rover for a newer model, or selling your vehicle altogether, you will always be looking for the best possible price. By choosing a trusted trader to sell your Land Rover, you will be getting the best possible deal. For example, online offers can be considerably reduced during a physical viewing.
Call one of our specialists on 01425 655009 to see if we can offer you a better price, or sell your Land Rover on your behalf for an agreed fee.
Buying
If you are dreaming of owning a stylish Land Rover or swapping your current vehicle for another model, it can be a time-consuming process. With our years of experience in the industry, we have gained many trusted contacts across the sector which means we are best placed to find your perfect Dorset Land Rover and negotiate a price suited to your desired budget. For example, if you are looking for the best Land Rover Dorchester and beyond has to offer, you can rely on our specialists to source a quality vehicle in line with your requirements.
Reasons to choose Candys 4×4 for your Land Rover Dorset needs
For the past 30 years, we have been building upon our fantastic reputation as the number one independent specialist for everything Land Rover in Dorset. As we are located in the New Forest, we are in the perfect spot to provide the highest standard of services for customers in Hampshire, Wiltshire, Dorset and the surrounding areas.
If you are unsure whether Candys 4×4 is the best option for your Dorset Land Rover, get in touch with one of our friendly specialists today. We will give you expert advice so that you can make the right decision suited to your Land Rover tastes and budget.
Finally, if you are looking for a talented team to complete custom engine rebuilds and special modifications on your Land Rover in Dorset, Candys 4×4 is the best team for the job.
Contact us
Whether you are seeking a Dorset Land Rover specialist to service your vehicle, or perhaps to assist you with the buying or selling process, get in touch with the expert team at Candys 4×4 today! Call 01425 655009 or email gordoncandy@btconnect.com.