Bournemouth Land Rover
Are you in the market for a new car? Do you have a vehicle that you're looking to sell? Then you need to give Candy's 4×4 a call today as we provide Bournemouth Land Rover services that are second-to-none. For more information, make sure you give our experienced team a call today on 01425 655009.
Buy and sell a land rover in Bournemouth with Candy's 4×4
From driving the kids to school in the morning to doing a spot of off-roading driving, the Land Rover is an impressively versatile vehicle with a long and proud history. Built to withstand harsh and rugged terrain, these vehicles are a popular choice for those living in the countryside. If you're looking to buy or sell a Bournemouth Land Rover, you've come to the right place.
Here at Candy's 4×4, we provide a complete one-stop-shop Bournemouth Land Rover service to help in the buying and selling of Land Rovers. We also provide an excellent maintenance service to keep your pride and joy in full running order for longer. With our team working hard for you, you're assured of the best Land Rover Bournemouth experience possible.
Purchase a Land Rover Bournemouth
Finding a car has never been easier thanks to the talented professionals at Candy's 4×4. We save you the long and arduous process of sourcing the right vehicle. Instead, you simply tell us what you're looking for and your price range, and we'll provide you with a selection of cars that match your criteria. It is really is easy as that to find a Land Rover in Bournemouth.
Of course, finding the right car is only half the struggle – you still have to secure the best deal possible. Well, we can help in this regard too by negotiating on your behalf. Our Land Rover Bournemouth team deal with private and trade clients alike and will carry out a full mechanical inspection before you choose to make your purchase.
Better still, we also provide several fantastic warranty options for your added peace of mind. Our excellent services don't end there either, once you've secured your new Bournemouth Land Rover, we'll be happy to provide you with competitively priced servicing and maintenance services – entirely optional of course, but you could save up to 50% over franchised dealers.
See below for a short list of just some of the great services that we can provide: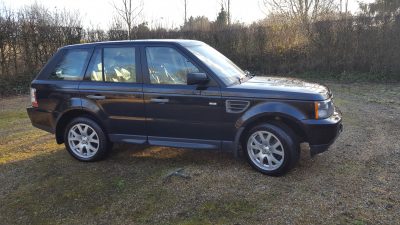 Rebuild and modify engines
Courtesy car (when available) and FREE local collection
Full Autologic diagnostics
Seasonal inspections
MOT
Alignment and modification of all suspensions
Tyres, batteries and exhausts
Sell your Land Rover today with Candy's 4×4
If you have a Land Rover Bournemouth that you would like to offload, make us your first port of call. With many years of experience, we know a thing or two about getting the best deal for all used vehicles. There is nothing worse than being quoted a price only to have it change when you come to finalise the deal.
At Candy's 4×4, you will have no such concerns. In fact, we make it our mission to secure for you a higher price than you would receive elsewhere. Whether we make you a Bournemouth Land Rover offer ourselves or sell your car for a set fee on your behalf, you won't be disappointed. We never put our needs first, so you should always expect to receive advice from us that is both honest and impartial.
So, for the most reliable and professional Land Rover Bournemouth service, look no further than Candy's 4×4.
Why choose Candy's 4×4?
Here at Candy's 4×4, we have more than 30 years' experience in buying, selling, servicing and maintaining Land Rovers. We are a family-run business with an impressive reputation for delivering quality service at prices that are highly competitive. As a rule, we also put the needs of our customers first, so you can be confident that you are in capable hands.
Whether you're purchasing or selling a Land Rover in Bournemouth, we think you'll agree that our knowledge and expertise simply cannot be beaten. We are experts in all things Land Rover, dating back to the earliest 1948 model. This enables us to provide comprehensive servicing and a vehicle sourcing service that is second-to-none.
Here at Candy's 4×4, we source only genuine Land Rover parts and carry out all servicing in-line with the Land Rover main warranty. This ensures that your warranty remains unchanged and fully active. As mentioned above, our prices are highly competitive – you won't find such a great deal on genuine parts anywhere else. We also have access to the latest cutting-edge Land Rover diagnostic tools.
So, what are you waiting for? If you're in the market to buy or sell a Bournemouth Land Rover, make sure you get in touch with our team today.
Contact
Call Candy's 4×4 now on 01425 655009 and book an appointment to speak with our friendly and knowledge Land Rover Bournemouth specialists.